Butler, PA, is the county seat of Butler County, and is home to around 14,000 people. Just 35 north of Pittsburgh, it's a city that offers just about everything you could want in a place to live, with all the amenities of a big city combined with a small town sensibility. It's got several historic locations on the National Register of Historic Places including the Butler County Courthouse and the Sen. Walter Lowrie House.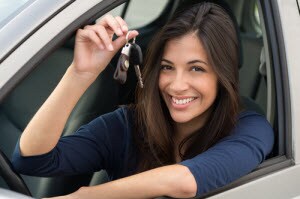 It's also home to the only museum in Western Pennsylvania dedicated to Asian arts and culture, in the form of the Maridon Museum. Besides these places, the town has a thriving arts and culture community, with locales like the Butler Art Center, Butler Little Theatre and Brushes & Barstools. Learn why when locals are in need of the best pre-owned vehicles from the best used car dealer near Butler, PA, they turn to the team at Butler County Ford.
Butler County Ford
Butler County Ford was first founded as McIntyre Motor Company in 1918, and now, 100 years later, it's still located at the corner of Main and Wayne Streets right in downtown Butler. Ever since those days in World War I, we've served the people of this area, offering the best in selections, sales and service for all kinds of vehicles.
Ever since 1956, we've been family-owned and operated, and are currently in our second generation in this legacy. That means we've got deep roots in this community, as historic as the rest of the town, and every bit as connected to our roots and legacy. We're a part of this community, and all we want is to deliver the kind of service that will keep you coming back for many years to come. Whether it's buying your next car or ongoing maintenance and service, we're here to take care of all your used car needs.
Used Car Dealer near Butler, PA
What kind of used car are you looking for? Maybe it's a 2017 Ford Fusion, a late model GMC Canyon, or a Lincoln MKX Reserve. Whatever make or model of vehicle you want, we may well have it in our huge selection of pre-owned vehicles. Maybe you want to opt for a certified pre-owned Ford, which has undergone a multi-point inspection reviewing over 100 areas to ensure that your new-to-you truck, SUV or sedan runs just like it was brand new, with a special Ford warranty to back it up.
Our sales staff is here to help you find the perfect car that you've always dreamed of driving, at a price you can afford. Then, our certified Ford service technicians will be on hand to help you keep it running, whether it's a basic maintenance checkup, annual inspection, or even major repairs.
If you'd like to experience the best sales and service at the best used car dealer near Butler, PA, we are the only dealership you'll ever need. Stop into Butler County Ford and ask our sales staff about taking a test drive today!