A new car is something all drivers in Kittanning, Slippery Rock, and Worthington want to protect and preserve. That's something we really understand here at Butler County Ford, which is why we're proud to have a professional Ford service center dedicated to giving your car the maintenance and repairs it needs throughout its life.
Read on to learn more about how we can help drivers in Harrisville and Clarion with their automotive service needs.
Professional Ford Service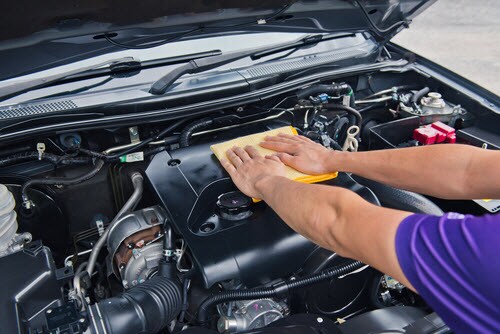 In our Ford service center, providing quality automotive care is the number one priority. We offer all types of service. This includes oil changes, tire repairs, and fluid top offs. Plus, we take the time to perform an extensive inspection on all vehicles that come through our facility to make sure everything is working properly. If we spot any issues, we'll let you know and suggest the best repair. 
No matter if you need a repair or just routine service, you can trust that our factory-trained technicians will be able to get the job done right. They have years of experience in the automotive industry, so they know your Ford inside and out. Their experience and knowledge help them provide a quality repair and service for your vehicle to uphold its outstanding condition.
Plus, we only use genuine Ford parts for your vehicle. These components are designed to be completely compatible with the inner workings of your car and are built to last. For more information about our available parts and how you can place your order, contact our parts department.
Service Benefits and Specials
At our Butler Ford dealership, we not only strive to give you the dependable service you deserve, but we also work hard to make sure your entire visit is as comfortable and convenient as possible. We'll take the time to carefully look at your vehicle's overall condition and performance. If it needs service, we'll perform the one that works best for your car. Most importantly, we'll keep you informed and answer all your questions each step of the way.
Furthermore, our dealership is proud to offer a selection of parts and Ford service specials. To see which types of offers we provide, check out our list of available service and parts specials.
Schedule Service for Your Ford
From extensive repairs to regular maintenance items, the team at Butler County Ford can perform the services needed to keep your car running well. With our help, your Ford can cruise through Kittanning, Slippery Rock, and Worthington for years to come.
For more information about our advanced facility or to schedule a service appointment, drivers in Harrisville and Clarion can contact our service center today! 
Auto Repair Services
Oil Change
Brake Service
Battery Replacement
Filter Replacement
Tire Rotation
Wheel Alignment
Coolant Flush
Transmission Service
Spark Plug Replacement
Suspension Repair