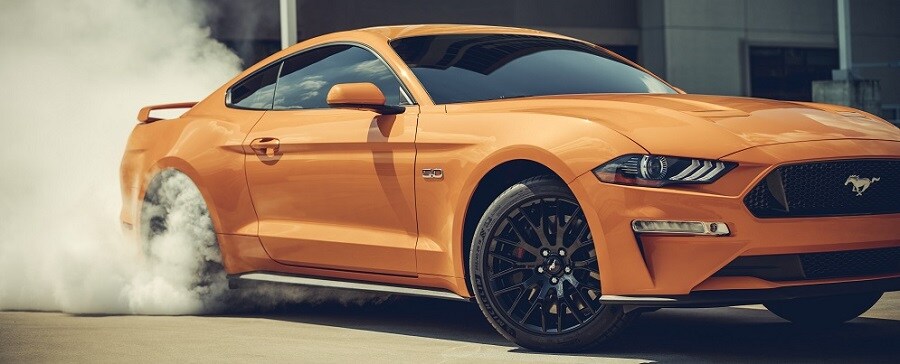 Some classics never go out of style. No matter how much they evolve over time, there are some cars that will always make you dream about cruising the countryside. A classic American muscle car like the Ford Mustang would be perfect for you if you've ever wanted to go touring around Kittanning, Slippery Rock, Worthington, Harrisville, or Clarion.
So, what do today's muscle cars have to offer? Butler County Ford put together this 2018 Ford Mustang review to help you find out.
Ford Mustang Performance & Power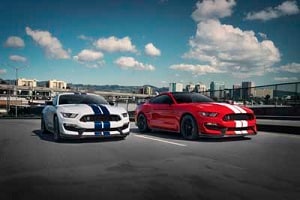 There are six trims for the 2018 Ford Mustang, each with their own powerful engine.
First, there's the EcoBoost and EcoBoost Premium trims levels with a 2.3L engine that produces 310 horsepower. The EcoBoost trims are available in both a Fastback hardtop and a convertible configuration.
Next, there's the GT and GT Premium with a 5.0L Ti-VCT V8 engine that generates 460 horsepower. It has a Dual-Injection System to help improve power and efficiency. The GT trim is available with the Fastback top, while the GT Premium comes in both a Fastback and convertible body style.
Both the EcoBoost® and GT trims offer either a 6-speed manual transmission or a 10-speed SelectShift® automatic transmission.
The most powerful trims are the Shelby GT350 and Shelby GT350R. They live up to the iconic Shelby name with a 5.2L Ti-VCT V8 engine that delivers 526 horsepower and works with a TREMEC® 3160 6-speed manual transmission. Both have a standard Fastback configuration.
Ford Mustang Design
There's no mistaking the roar of a muscle car. Both the 2018 Ford Mustang's Fastback and convertible configurations are designed to boost performance and style.
With the active valve performance exhaust system, you can control the volume of these powerful engines. You'll hear the horsepower rumble through both the standard hood vents and the dual exhausts, which can be equipped with either rolled or quad tips. The Shelby GT350 trim has an extra hood vent and sports a raised decklid in the back to improve aerodynamics. 
For its handling, the Ford Mustang features a 107.1-inch wheelbase with standard 17-inch wheels. There's also options for larger 18- and 19-inch wheels.
Ford Mustang Cockpit & Controls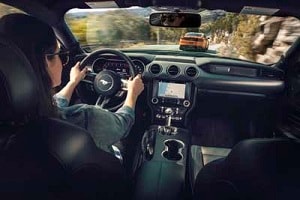 With all this power at your command, the 2018 Ford Mustang needs a dashboard that feels more like the control panel on a jet. Sure enough, you'll have that level of control at your fingertips.
A large 12-inch color LCD instrument cluster lets you choose which gauges you want displayed. With the push of a button, you can also utilize the Track Apps® feature to check on your car's performance metrics. If you want to take a trip to the track and let the Mustang rev its engine, you can clock your lap time or measure its quarter-mile acceleration.
Along with these performance features on the touchscreen, you'll also find SiriusXM Traffic and Travel Link®. Plus, you can sync your smartphone up with Apple CarPlay™ and Android Auto™. For full integration, download the FordPass™ smartphone app to act as your personal assistant during your drive. It can help you find convenient gas stations and parking nearby.
Saddle Up for A Test Drive
Whether you're interested in cruising with the top down or want to control all that power from inside the cockpit, the 2018 Ford Mustang offers style and classic American muscle. It'll serve you well if you're looking to see all of beautiful Western Pennsylvania, including Kittanning, Slippery Rock, Worthington, Harrisville, and Clarion.
We hope you've enjoyed this 2018 Ford Mustang review. To learn more or take one for a test drive, visit Butler County Ford.