Harrisville is a Butler County borough that is the home of almost 900 people, a small town at the center of a region of tight-knit communities that was first founded in 1826 and is named for its founder, Ephraim Harris. It's a town with deep roots and a place where people care about their neighbors and cherish their quiet lifestyle.
That's not to say they don't know how to have a good time. There are a ton of activities in the area that locals enjoy, including Living Treasures Wild Animal Park, McConnells Mill State Park, the Allegheny River Trail, and Skydive Pennsylvania.
There's also the Volant Mill Winery, Fractured Grape Wine Cellars, and Knockin Noggin Cidery and Winery. Of course, getting there means you need a great Ford car, truck or SUV, and Butler County Ford is the most trusted Ford dealer near Harrisville, PA, for its long legacy of outstanding customer service and care.
Butler County Ford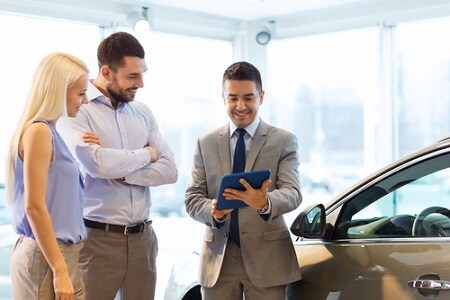 For over 100 years, Butler County Ford has been located at Ford Corner, serving the people of Harrisville, PA, and the surrounding communities with the very best Ford sales and service. Not only does the legacy of the dealership reach back a century, but for over 60 years it's been owned and operated by the same family. Now in its second generation of family ownership, Butler County Ford is here to provide the same quality and legacy of service our customers have grown used to over the years.
We've been here for 100 years, and we plan to be here for at least 100 more. We've gotten here through providing the best selection and the best service, by treating every customer like a member of our family, and keeping the car buying experience exciting, fun and pressure-free. We don't just sell cars at our dealership. We create relationships that last a lifetime.
Ford Dealer near Harrisville, PA
Whether you're looking to drive a new Ford F-150, F-250 or F-350 heavy duty pickup truck, you want to tear up the local roads in a new Mustang, or you're looking to drive the family in a new Ford Escape SUV, we've got the car designed just for you. Our selection of Ford vehicles is unmatched and we can set you up with any model, color, body configuration or trim level you want.
Then, when you've gotten all the information you need and taken all the time you like to test drive vehicles, we'll get you set up with an incredible payment plan, outstanding special deals and incentives. You'll drive away as happy with the deal you got as you are with the car you're driving. For the many years, even decades, that you own the car, our Ford service center will be here to use the best genuine factory parts to keep it running like it did when it first came off the factory floor.
Our only goal at Butler County Ford is to be here for you, to provide the ideal car buying experience. We're your one-stop shop Ford dealer near Harrisville, PA. Stop into our showroom to see for yourself today.