As the county seat of Clarion County, Clarion, PA, is a small yet thriving town with a close-knit community. First incorporated in 1841, its population has increased over the years, reaching over 5,000 people today. It attracts residents and tourists alike with its annual Autumn Leaf Festival, as well as its many great eateries, such as Vince's Tavern and Smokey B's BBQ. For a breathtaking nature walk, many venture to Cook Forest State Park and Deer Meadow Campground to unwind and relax.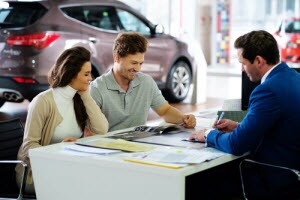 Getting around to these places is exactly why when locals are looking for the best Ford dealer near Clarion, PA, they turn to the outstanding service experience they get at Butler County Ford.
Butler County Ford
First established as the McIntyre Motor Company in 1918, Butler County Ford has served the people of the surrounding communities for an entire century. Through several owners, the business has run uninterrupted for all that time, and has been owned and operated since 1948 by the same family. It's that legacy of family values and exceptional service that has led us to be such a long-standing success.
After all, if your family drives Ford cars, trucks, or SUVs, there's a good chance that your parents, grandparents, or even great-grandparents may have purchased a vehicle from us. Visiting our dealership for sales and service is a community tradition. We've been here and seen it all over the past 100 years, and we plan to be here for at least 100 more. We are the dealership with a deep commitment to customer service that you can rely on for all your Ford needs.
Ford Dealer near Clarion, PA
Are you looking to pick up a new Ford F-series pickup truck, the best-selling line of pickups? Maybe you're out to get a new Ford Mustang. You might be looking at an Explorer SUV or Focus sedan. Whatever you're looking for, whether it's used or new vehicles, you're sure to find it on our expansive lot, especially with the assistance of our dedicated sales associates. As knowledgeable as they are friendly, our sales associates can match you up with an ideal Ford car that meets your automotive needs.
However, we're also here to help you get outstanding interest rates and payment plans for your new purchase or lease deal, which is why we have financial experts happy to help you. After you've selected your next Ford vehicle, they'll craft you a personalized payment plan that you can be confident in.
Even after you drive off our lot in your new Ford vehicle, our diligent crew of mechanics and technicians will make sure it keeps on running for many years and miles. They only use genuine factory parts, so you can be certain that your car will be as healthy as it was the first day you drove it. From oil changes and transmission flushes to in-depth inspections, our service crew can do it all.
Visit Us Today!
Butler County Ford is your one-stop shop for all your Ford needs. If you're looking for the best Ford dealer near Clarion, PA, there's nowhere else you need to look. Give us a call or stop into our showroom today.