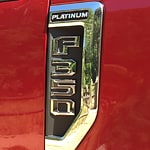 Ford has done something incredible with the latest Super Duty lineup. When it comes to power, Ford provides both gas and diesel power, proving that the Ford Super Duty is best in class when it comes to towing and hauling power. The 7.3-liter gas V8 Super Duty delivers 430 horsepower and 475 lb.-ft of torque. However, the diesel engine delivers 1,050 lb.-ft of torque.
Both of these engines let you haul and tow on any job, while also being able to move uphill and downhill with absolutely no stress. Whether you have to pick up a trailer full of boulders or another large payload, the Ford Super Duty can handle it all for Butler, PA drivers.
The Ford Super Duty can out-haul and out-tow all other full-size pickups in the same class. You'll love the gas engine, or if you want even more power, go with the 6.7-liter Power Stroke V8 turbo diesel. You can test drive both models at Butler County Ford.