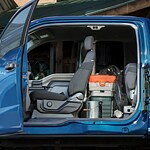 When looking for a great pickup truck, the performance features of the Ford F-150 might be an option you take into consideration. The Ford F-150 emphasizes the driving performance with a couple of designed features that stand out in particular.
The engine of the F-150 comes in different shapes and sizes and allows you to focus in on the specific performance area that is most important for your driving experience. The Ecoboost engine has powerful torque and a twin cooled turbo, while the power stroke turbo diesel has a focus on towing capabilities and an improved fuel economy.
Improving acceleration can increase your truck's performance which is the Ford F-150 takes it to the next level with a 10-speed transmission. Better than a 6-speed and having improved acceleration for low and mid ranges of power, this transmission also improves engine efficiency by reducing drag with its optimized wide-span gear spacing design. Experiencing the performance features of this pickup can be simply done by taking a Ford F-150 for a test drive at your earliest convenience.