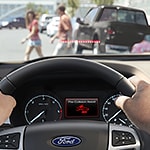 When purchasing a vehicle, you'll want to invest your money in something that will perform well while looking great as you drive around parts of Butler, PA. With the Ford Ranger, you can have it all thanks in large part to this new midsize pickup truck's state-of-the-art design features.
One of the Ford Ranger's most striking design features is the wide grille opening at the front. In addition to looking nice, this grille was designed to give the vehicle greater aerodynamic performance so that it can move more efficiently while it's in motion. The improvement in aerodynamics may also be better for your fuel-efficiency.
You can also check out the design and layout of the Ford Ranger's seats when you come to Butler County Ford for your test drive. These seats can accommodate up to five people at a time and are lined with comfortable materials to make everyone's ride more enjoyable.