Many Ford models are celebrated for their tech-packed cabins, high-output engines, and attractive styling. Another aspect of these cars that appeals to many drivers are their vehicle dimensions, which includes their interior measurements, exterior dimensions, and cargo room.
To help our neighbors from Kittanning, Slippery Rock, and Worthington choose the best Ford car for their automotive needs, the experts at Butler County Ford compiled this useful library of Ford vehicle dimension reviews. Read on to learn how these reviews can help you!
Our Vehicle Dimensions Reviews
When drivers are seeking out their next car, some main areas that tend to attract their attention are the technology, performance, and safety. While those are important to consider in your car search, two other key aspects are also vital: interior space and exterior dimensions.
Our vehicle dimension reviews dive into the nitty-gritty measurements of many Ford sedans, SUVs, and trucks. By reading them, you can learn which vehicle has the spacious rows, roomy cargo space, and compact exterior you need for your drives around Harrisville and Clarion.
In our Ford vehicle dimension reviews, you will find the following information:
Interior measurements, such as headroom and legroom.
Exterior dimensions, such as the length and width of the car.
Cargo room and cargo box space.
How Our Vehicle Dimensions Reviews Can Help You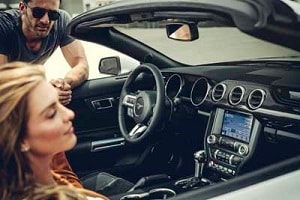 By knowing the interior dimensions of the Ford you're interested in, you can see if it has enough space to stretch out in, pack your cargo, and comfortably accommodate all your passengers. After all, you'll be spending most of your time driving around Kittanning and Slippery Rock inside of your vehicle! You want to be confident that the vehicle you choose will provide enough headroom, legroom, and trunk space.
Along with the interior, it's also crucial to know the exterior measurements of a model you're considering. By knowing the exterior dimensions, you can discover if a select Ford model is compact enough to pull into tight parking spots, will easily fit into your garage or driveway, and is the ideal size for you.
If you're interested in a Ford truck, then our vehicle dimension reviews will cover the cargo box dimensions and bed sizes. Reading about these key measurements will help you find out if there's enough cargo box space and bed room for your large loads of equipment or materials.
Check Out Our Ford Vehicle Dimension Reviews
At Butler County Ford, we strive to help every driver choose the Ford that's the best fit for their driving lifestyle and preferences. So, click on any of the Ford vehicle dimension reviews on this page to get a jump-start on your car research!  
If any Ford model interests you, reach out to us to learn more about its powertrain, technology, safety, and more. We're proud to serve our customers from Worthington, Harrisville, Clarion, and beyond!