For a truck that's as spacious as it is powerful, drivers should consider the Ford F-150. With its wide array of cab styles and cargo beds, you can customize this truck to meet all of your automotive needs for your drives around Kittanning and Slippery Rock.
The 2018 Ford F-150 has plenty of customizable features that can help you with those work projects and weekend adventures. To help you learn about this versatile truck, we at Butler County Ford created this 2018 Ford F-150 dimensions review to help out our customers near Worthington, Harrisville, and Clarion. Keep on reading to find out more about the Ford F-150!
Exterior Cab Dimensions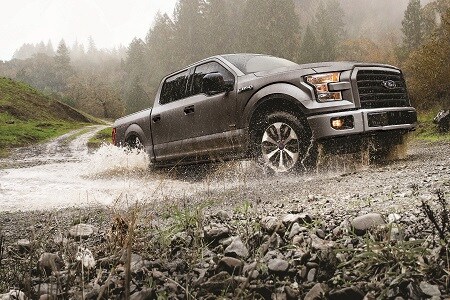 Multiple cab styles are available for the F-150, which include the Regular Cab, SuperCab, and SuperCrew. To start, we'll go over the ever-popular Regular Cab with a 6.5-foot box. With this cab style, you'll have a wheelbase of 122.4 inches and an overall length of 209.3 inches. Depending on the type of mirrors you choose, the Ford F-150 Regular Cab will have varying widths. For example, it'll have a width of 96.8 inches with standard mirrors, while the trailer tow mirrors extend that width to 105.9 inches.
As for the SuperCab body, its larger frame expands the wheelbase to 145 inches and the overall length to 231.9 inches with the 6.5-foot box. As for width, it remains the same as the Regular Cab with both the standard mirrors and trailer tow mirrors.
Lastly, there's the SuperCrew body, with a wheelbase of 156.8 inches with the 6.5-foot box. Its upgraded body also extends its overall length to 243.7 inches, but the width remains the same as the Regular Cab and SuperCab styles.
Interior Dimensions
While its important to have enough space for your cargo, it's also vital to have a comfortable and spacious interior. With the Ford F-150, you'll find a roomy interior cabin with enough room to stretch out in and relax.
The Regular Cab has 40.8 inches of headroom and 43.9 inches of legroom for the front-row passengers., which is the same for the other cab styles as well. While the Regular Cab style doesn't have a second row, both the SuperCab and SuperCrew have rear rows. Inside the F-150 SuperCab, you'll find 40.3 inches of rear headroom and 33.5 inches of rear legroom. As for the SuperCrew cab, back-row passengers can relax with 40.4 inches of headroom and 43.6 inches of legroom.
Cargo Box Dimensions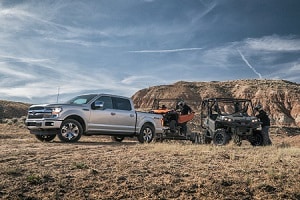 Most people who choose the 2018 F-150 are looking for a dependable work truck, which is why it's important to take a look at the cargo box dimensions of this vehicle.
With the 6.5-foot cargo box, you'll find the inside length on the floor to be 78.9 inches. In the 8-foot cargo box, that extends to 97.6 inches, while the 5.5-foot box dips that measurement back down to 67.1 inches. As for the width between the wheelhouses, it remains the same across all carbo box styles: 50.6 inches. The inside height maintains the same measurement, too, with all cargo box styles: 21.4 inches.
The last important difference between the cargo box styles is with the volume. With the 5.5-foot cargo box, you'll find 52.8 cubic feet of cargo box volume, while the 6.5-foot box provides 62.3 cubic feet of room. For the most room, choose the 8-foot cargo box, which offers 77.4 cubic feet of cargo box volume.
Check Out 2018 Ford F-150 Dimensions
As you can see, the Ford F-150 is a pickup truck that provides impressive dimensions-both inside and out-making this model a great choice for many truck drivers. However, drivers near Kittanning and Slippery Rock who want to learn more about this capable Ford truck can stop by Butler County Ford to learn even more. When you're here, you can schedule a test drive of the Ford F-150 to see if it's ready for your drives around Worthington, Harrisville, and Clarion.
The sales team at Butler County Ford is here to provide you with the most important information about our vehicles, including the interior and exterior dimensions. Shop with us, and we'll give you the information that will help you pick out your next new or pre-owned Ford vehicle that will perfectly fit your driving needs. We look forward to working with you!